About Alan Campbell - Your Fishing Guide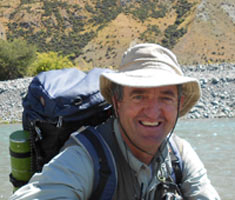 Alan Campbell Fly Fishing Guide
40 years fishing means that angling, and especially fly fishing has become ingrained into my life.
I started as a nine year old with rod and worm accompanying my Dad on the Pomahaka River in West Otago back in the 60's which was near our farm in Waipahi at the time.
After we moved to Timaru in the 1970's I became seriously interested in fly fishing but didn't start my guided fishing tours until 1995 at the same time as we were running the Glenburn Holiday Park in Omarama (now known as the Lake Benmore Holiday Park).
Before that I was too busy fishing myself!!!
The last sixteen years I have been based in Twizel which is centrally located to all these great fishing spots in the Mackenzie Country. I have also fished in France (for trout, pike and grayling) and Denmark for trout.
I have a strong connection with France, as that is where I met and married my wife Marie-Francoise in the early 80s after competing as an amateur cycle racer for six full seasons beginning in 1977.
Marie is of course a crucial part of my fly fishing guide operation - she makes the lunch!!
To this day we both travel back to France every year during the New Zealand winter to catch up on family and friends. In NZ Marie busies herself with her roses, cycling and an occasional round of golf.