FAQ - Frequently Asked Questions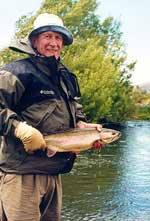 Below are answers to some commonly asked questions about things like fishing licences, NZ Customs, seasons, gear and more, but if you have any queries which aren't answered here, please contact me directly to find out more.
Fishing Licences
Q. Do I need a fishing licence?
A. Yes, a licence is required for trout fishing. I can arrange your licence in advance for overseas visitors to NZ.
Q. How much does a fishing licence cost? 
A. Licences are available in daily, seasonal and family licences only. Currently a whole season licence for non-residents is NZ$163, winter licence NZ$72 and a daily licence NZ$20
Q. Where do we buy a fishing licence? 
A. Fishing licences are available online at www.fishandgame.org.nz or from fishing tackle stores and various retail outlets in smaller towns and villages. Ask at the local information centre. Alan is happy to organise your licence on request. 
Q. Are there local or regional licences? 
A. licences purchased anywhere in New Zealand (except Taupo) are valid throughout New Zealand. For the Taupo area, a separate licence must be purchased.
Q. How do we find out about New Zealand fishing regulations? 
A. The fishing licence comes with a booklet outlining national and regional regulations, fishing seasons, catch and bag limits, the various permitted methods and a lot more information as well.
Guiding & Tuition
Q. Do you take beginners fishing?
A. Yes! - I enjoy the rewards of watching a new convert master the basic flycasting skills required to catch a trout.
Q. Do you offer training in fishing techniques?
A. Yes as this is an important part of the guiding experience - allowing me to pass on tips and improve the clients fly fishing knowledge.
Q. What time do we set out?
A. Depending on conditions, we leave Twizel between 8 and 8.30am and arrive back around 6pm.
Q. Where will we go fishing?
A. Everything depends on river and weather conditions. I often only decide earlier in the morning prior to our departure when the day's conditions become apparent.
Q. What size trout can I expect to catch?
A. Average size is around 1.5kg but there is always the possibility of that trophy fish!
Costs
Q. What are the various rates for your guiding services? 
A. You can see my rates for a standard day or half-day's fishing on the Guiding Fees page, but from time to time I also have specially packaged fishing trips which are advertised accordingly.
Fishing Season
Q. Is there a defined season? 
A. Yes - the new season commences on the first Saturday in November each year, and scales down on 30 April when most spawning rivers and streams close. 
Fishing Gear & Equipment
Q. Do we need to bring our own equipment?  
A. It is always better to use your personal equipment as this usually means more confident casting and better presentation however tackle is available for hire if it is not practical to bring your own.  
Q. What additional items do you recommend? 
A. A broad-brimmed hat and a pair of polaroid fishing glasses are essential, and a camera is a good idea.
Note: Dull or camouflage colours are recommended for hats, shirts, jackets, and vests. 
Bringing Fishing Gear into NZ
Q. Are there any Customs and/or Govt issues when bringing in our own equipment? 
A. Yes - make sure you DECLARE waders, wading boots and other equipment. MAF/Biosecurity officers may wish to clean, disinfect or fumigate it for you. Felt soled wading boots are now illegal for freshwater anglers.
Bringing Flies to New Zealand
Q. Can I bring my own flies to NZ? 
A. Flies are permitted but they have to be declared to customs. It is inadvisable to bring feathers and fur into New Zealand. They will have to be fumigated and could even be confiscated. Again, it is essential to declare any such item to customs.
Location
Q. How do we find you on arrival in Twizel? 
A. I always arrange a meeting place but most often I phone you at your motel/homestay the evening before guiding commences. Make sure you print a copy of my contact details to bring with you.
Q. Which is the closest airport? 
A. Christchurch airport is 280km from Twizel.
Q. What are the roads like? 
A. Travel from Christchurch is via State Highway 1 for half the journey and it is a good road and now part of the regular tourist route through the South Island of New Zealand. The added bonus is that we have low traffic numbers by international standards.  
Q. Is there any public transport to your town? 
A. Twizel is on the Christchurch-Queenstown route and is serviced by 2 bus companies. Ask Alan for details.
Q. Can you collect us from the bus stop? 
A. Yes, at no additional cost. I will also pick you up from you accommodation and return after the trip.
Accommodation
Q. Do you provide accommodation? 
A. Yes we do!!
Q. Do you provide meals?  
A. We provide lunch on the full day trips, but you need to arrange your own breakfast and evening meals.  Please let me know if you have any dietary restrictions!
Other things to do on our trip
Q. Do you offer any activities, other than fishing?
A. No - we do not offer other activities as part of the package, but are quite willing to recommend things to do, places to visit, or other activities according to your needs.
Weather Conditions & Climate
Q. What is the NZ climate like? 
A. Twizel has one of the highest sunshine hours of any place in the South Island. Temperatures range from -10C in winter to +30C, or higher, in summer. The average rainfall is approximately 550mm but this increases dramatically going west towards the Southern Alps. Snow can fall in the mountains at any time of year so it is wise to bring some warm clothes with you.  You can visit the NZ MetService to learn more and for specific details use keywords like 'Twizel', 'Mt Cook' or 'Omarama'.
Driving
Q. Are there any special driving rules we need to know about? 
A. Yes! Cars are driven on the LEFT side of the road. International road signs are used, all highways and major roads are of good quality and well signposted in English. International drivers licences are accepted. Road rules are consistent with most countries.
Q. What currency system does NZ use? 
A. Dollars & cents. You can check the exchange rates on the Guiding and Fees page.