Testimonials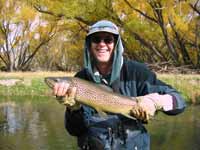 Even Dentists are allowed to smile!
Like Alan I have the privilege of living in the shadow of New Zealand's largest mountains where we are blessed with superb fishing opportunities. I regularly fish the area on my own and with friends but for over a decade twice a year I treat myself to "a day on the water" with Alan.
Everything about the day is special starting from the heartfelt warm greeting to the reflective warm inner glow as I drive my weary body home after an action packed day.
Alan chooses the best location for the conditions; He spots fish that others walk past. He makes and selects exquisitely tied flies. His patient skillful technique instruction ensure that I catch fish that my friends and I can normally only dream of guiding to the net.
If you want to live your fly fishing dreams spend a day in the spectacular McKenzie Basin with Alan. You won't be disappointed.
Mark Easton
Timaru

Alan Campbell, traque tout ce qui porte des nageoires dans les rivières de son pays depuis plus d'un demi-siècle! C'est avec passion, qu'il exerce son métier de guide de pêche au sein du Fishing Game Néozélandais.
Parfaitement bi-lingue, souriant, toujours de bonne humeur, une certaine décontraction apparente sont à la hauteur de son professionnalisme…Oui c'est un guide qui est à l'écoute permanente du moindre souhait de ses clients ! Et à L'heure actuelle ce type de guide est une denrée rare qu'il faut absolument avoir dans son carnet d'adresse.
Voilà mes premières reflexions qui me vienne à l'esprit lorsque l'on m'évoque le nom d'Alan Campbell. Car j'ai eu le plaisir et le privilège de le rencontrer à deux reprises lors de mes courts séjours dans son merveilleux pays qu'est 'île du sud de la Nouvelle-zélande. Testez-le c'est l'adopter......Et en plus il deviendra un de vos amis les plus fidèle......
Patrice Jacquinot
France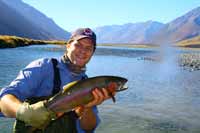 Gareth's Rainbow
"Dear Alan. Back at work now but still grinning from ear to ear when my colleagues ask how my trip went. I thoroughly enjoyed fishing the Twizel area and will, hopefully be back sooner rather than later. You clearly have a great deal of knowledge to offer the visiting angler and almost as importantly a genuine appreciation of the surroundings and overall experience your clients are looking for. I would be more than happy to recommend you to anyone looking to enjoy great fishing and great company in the South Island. Next time I might even get to eat some hare too!"
Cheers Gareth - UK

"Ton lancer est trop en arrière, trop long, trop court,.....!" Toujours avec le sourire et de bonne humeur, Alan ne cesse de me prodiguer ses judicieux conseils.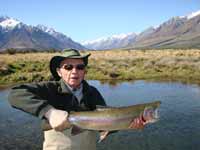 Raymond came from France
Ma technique au début de mes séjours en Nouvelle Zélande était rudimentaire, au contact d'Alan j'ai tout appris sur la pêche, c'est grâce à lui si j'ai pu prendre de trés belles truites dans des paysages superbes et fabuleux où l'on rencontre trés rarement un pêcheur.
Il connaît sur le bout des doigts sa région, selon l'époque, le temps et l'état des rivières il saît où il peut vous conduire dans son 4x4 pour toucher du poisson.
En Novembre 2009 je vais revenir pour la septième fois en Nouvelle Zélande pour retouver mon maître et toutes ces fortes émotions. Merci Alan pour ta patience, ta gentillesse et tous les instants de bonheur passés ensemble au bord de l'eau. A bientôt.
Raymond - Toulouse.