Monthly Highlights
Below are photos and a story from the recent month's guided fly fishing trips.
November 2012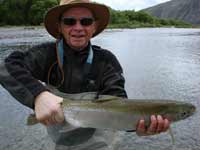 A happy Raymond with a nice rainbow
Raymond's return to Twizel for the start of the 2012 fishing season was met with snow, wind and rain but we braved the conditions to get out and into those trout!
Absent last year, Raymond was determined to make up for lost time. A dump of rain the previous day brought the rivers up but we were able to find shelter and some fish!
Over the next 2 weeks Raymond renewed his "acquaintance" with New Zealand brown and rainbow trout. The trying weather and water conditions meant we had to innovate a little but every day met with success although a couple of days were lean.
In my experience, a plummeting barometer usually means tough going! Of course the flipside is that when the pressure is on the way back up the trout will be back "on the job" all things being equal!

Having had a few minor health issues, it was great to see Raymond looking good and feeling well after his "sejour" with us and leaving on a high after his "fix" of Central South Island fly fishing.
[click photo to enlarge]
| | | | | |
| --- | --- | --- | --- | --- |
| | | | | |
| Raymond battling freezing conditions on opening day to snare this brown with a great cast. | | None the worse for wear this brownie on his way back "home" | | Summer at last and the fish are biting! |
| | | | | |
| Stunning backdrop for this lovely rainbow | | Good handling technique with sun gloves making it easy for angler and fish alike | | Crystal clear water makes this catch very memorable. |